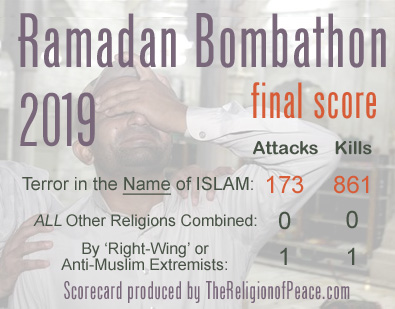 This year's
Ramadan Bombathon
included the
murder
of a Muslim
shopkeeper in Sri Lanka during riots that followed the Islamic State
Easter Day slaughter of 258 at churches and hotels (prior to Ramadan).
Of course, this was dwarfed in typical fashion by the Religion
of Peace, which, during its holiest month, inspired terror
attacks in Afghanistan, Bangladesh, Burkina Faso, CAR, Chad,
DRC, Egypt, France, India, Iran, Iraq, , Israel, Kenya, Lebanon,
Libya, Mali, Mozambique, Niger, Nigeria, Pakistan, Philippines,
Somalia, Syria, Tajikistan, Thailand, and Yemen.
* 2019.05.14
Sri Lanka
- Man killed by anti-Muslim mob
Religion of Peace
Atrocity of the Week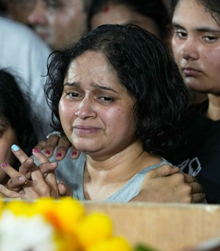 Philippines: Dutch
Birdwatcher Murdered
after 7 Years in Captivity
Other Recent "Misunderstandings
of Islam"
2019.06.05 (India)
A woman bleeds to death after being shot by Islamic radicals.


2019.06.04 (DRC)
ADF Islamists massacre thirteen villagers.


2019.06.03 (Lebanon)
A committed Muslim opens fire on police, killing four, then blows himself up.


2019.06.03 (Afghanistan)
Terrorists bomb a bus, killing five passengers.


2019.06.03 (Iraq)
Nine people are kidnapped and murdered while hunting mushrooms.


2019.06.02 (Afghanistan)
Islamists hit a bus carrying university students with a bomb, killing one.

(Note: Data for each attack is sometimes pulled from multiple sources. The provided link may not be in complete agreement with the updated detail for the incident).
ARTICLES
NEWS
BEST OF ARTICLES ARCHIVE
INFIDEL FROM HELL
New York Post
May, 2019
Judge Jeanine Pirro
April, 2019
Zara Kay
March, 2019
L'Escale Waitress
February, 2019
Rahaf al-Qunun
January, 2019
Elisabeth Sabaditsch-Wolff
December, 2018
Asia Bibi
November, 2018
Sarah Champion
October, 2018
DHIMWIT OF THE MONTH
Tom Wilkinson
May, 2019
Nike
April, 2019
Andreas Petterson
March, 2019
Instagram
February, 2019
NBC (Chicago P.D.)
January, 2019
Theresa May
December, 2018
Rutgers University
November, 2018
The Dalai Lama
October, 2018